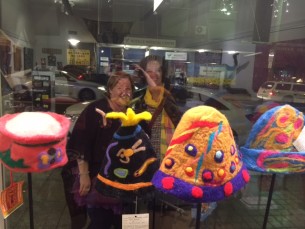 The Alice Springs Beanie Festival has been operating for nearly 20 years annually. Â It brings beanie lovers together from around the world for a weekend of beanie fun with a different theme each year and competitive entries as well as beanie related activities. Â Last year's theme was 'Out of this World' and this year's theme is 'Opposites Attract'.
Arts workers visit remote communities and help Aboriginal artists to create beanies with cultural themes so they too enter and also gather in Alice Springs for the festival along with independent craftspeople and groups.
The Alice Springs Beanie Festival (www.beaniefest.org) is traditionally held near the end of June but Tali Gallery runs an offshoot in July, with the Beanie Fest's blessing, to coincide with our Rozelle community festival, Christmas in July.
Tali Gallery encourages schools to hold beanie days where students wear their decorated beanies to school and donate a gold coin directly to the Indigenous Literacy Foundation. Â  It is a warm and engaging way to celebrate Aboriginal culture and fund raise to promote literacy in remote communities.
Please visit us in July for Beanie Fun and see our whimsical exhibition of beanies created by women in remote communities and other beanie creators!
This year there will be beanie decorating workshops in conjunction with local Embellish Atelier boutique milliners.