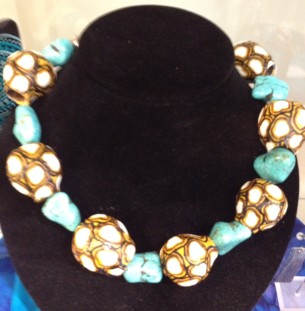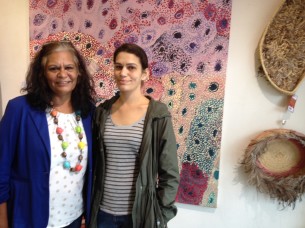 SEPTEMBER 20, 2 to 4pm –  GUMNUT SALON WITH JEWELLERY ARTIST, CLEONIE QUAYLE :
Cleonie says:
"A lot of the designs are my father's Country, Barkindji (Paakindji) which means river people, Barka means river, as the great Murray River flows through Wilcannia. Some people say Barkindji and some people say Paakindji, it's the same region, one just means north of the river the other means south of the river. The squares represents our lands, because we are known as the Corner Country, because our Country is on the boarder of NSW, QLD and SA.
Dad was born in White Cliffs, the dirt underground is white.
Another necklace design is my interpretation of a woven basket for fishing (the 3 lines is also the women's symbol) and of course the one gumnut representing my father's Country again.
I like working with gemstones, because it's symbolic of our Country, because out west is famous for its gemstones."