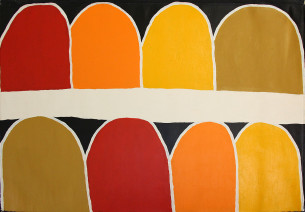 It is such a pleasure to match a client with the right painting – something that enhances their lives and gives them ongoing pleasure! Â  We are happy to spend the time to fully understand what a client is looking for, their personal taste, and what will work in their home.
People love different things and that's what makes the art world, people's homes and people themselves so interesting. Â It's important that people have the opportunity to choose what they will love to live with.
We do our utmost to ensure our clients feel confident about their decision by encouraging in-home trials.  Apart from our stock, are able to source from our art centres and also to commission work specially by organising for a specific artist to paint a work.   These paintings have top provenance from their respective Aboriginal Owned Community Art Centres whose management specified the price and consigned it with an Art Centre Certificate – the best guarantee of ethical sourcing  and authenticity.