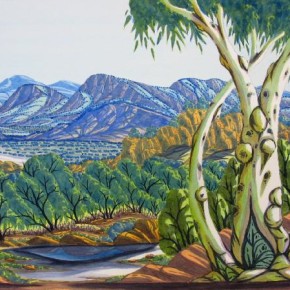 Tali Gallery has been pleased to hold an Open Studio and related events to celebrate a collection of contemporary watercolour paintings on paper from Ngurratjuta Many Hands Art Centre, including Albert Namatjira Jnr, Mervyn Rubuntja, Â Hilary Wirri, Lenie Manatjira, Johannes Katakarinja, Ivy Pareroultja, Hubert Pareroultjja, Elton Wirri, Kevin Wirri, Gloria Pannka, Peter Taylor, Kevin Namatjira and Douglas Abbott.
It was sad to hear that the two Ghost Gums famous from Albert Namatjira's paintings, that are a sacred site for women, were recently destroyed by arsonists, just before they were due to be heritage listed. The Sydney Morning Herald has reported senior heritage officer, Â Malcolm Connolly, Â as saying: Â "They were regarded as a deeply significant landmark, synonymous with Namatjira's depiction of the desert country around Hermmansburg and ghost gums as living spirits."
While Albert had permission to paint the pair of gums relating to a women's dreaming about twin sisters, he  was not allowed to visit them.   On his recent visit to Tali Gallery in Sydney in February, Mervyn Rubuntja explained that he too can paint the gums, but as a male, cannot visit the site.  As Aboriginal artists painting aerially carry an exact memory of their country in their heads according to the songlines, and know their country very intimately, so do the watercolour artists painting as the eye sees.  They do not need a photograph to paint from but know the landscape so well they can paint the image very easily from their cultural knowledge.  But it is evidently far more than 'what the uninitiated eye can see'.
Read more: http://www.smh.com.au/environment/conservation/monuments-to-namatjira-legacy-lost-to-suspicious-fire-20130103-2c78c.html#ixzz2MGvlx3XA
C.P. Montford writes, "For untold generations, Albert's forefathers had roamed in this distinctive country, a country made alive to them by the creation stories that tell of the time when their progenitors, large and immensely powerful, raised the steep-sided hills, formed the mighty gorges, and caused the river-valleys and water-holes to come into being. Each family had its own land, sufficient for its needs. It was theirs, not by conquest, nor by purchase, but by inheritance through countless generations. To them the land, with its legends, songs, ceremonies and associations, is an integral part of their life, and visible evidence of the truth of their philosophy and their beliefs. It is the place that links the people of the present, through a maze of myth and legend, to their strange unearthly progenitors of the ghostly past." Â 
The creation stories of the Western Arrernte provide insights into the inspiration for these paintings and while we are unable to fully interpret them, we can certainly appreciate their mysterious beauty.
The Story of The Monoliths of Palm Paddock (The Art of Albert Namatjira, C.P. Mountford)
"These monoliths are the metamorphizsed bodies of a euro man and his two sons; that on the left, the father, and on the right, his sons. In the creation or Dreaming Stories, these mythical Euro people made their camp at this place, so that they could catch kangaroos for their evening meal. All the incidents of the hunt are commemorated in the various natural features of the locality, at one place a large isolated rock represents a heap of edible meat, at another are low rounded hills that grew out of the skin and bones that were thrown away, and still another a shallow depression in the plain, where the kangaroo was cooked."
Mervyn's father, Wenten Rubuntja, explained the Story of Mt Ziel which is called Urlatherrke – ayeparenye caterpillar.   "That hill is all the little ayeparenye caterpillars. Everybody used to go there and worship, and the women used to dance to make the children grow up quickly just like the little ayeparenye caterpillars do."    Haunted Landscapes…..