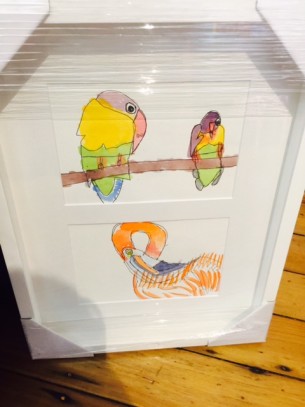 Just arrived back from the framers!   Delightful and ever so quirky in the typical and popular style of this well known and collectible artist, we are pleased to present a display of tropical, whimsical, birds going about their business, keenly observed. Ornithology Conway Ginger style!   These will be unwrapped and hung on our walls during September!
Conway paints with Bindi Inc, a cross cultural organization providing opportunities for all people with disabilities for over 32 years which supports some of Australia's leading and emerging artists whose work exhibits nationally and internationally.
They have been very successful over the past decade receiving national recognition via a series of high profile exhibitions. They can be found in collections nationwide including the National Gallery of Australia, the National Gallery of Victoria, the Art Gallery of New South Wales and the Art Gallery and Museum of the Northern Territory.