We love these new Wandjina, Arawadi and Gulawala Limited Edition, Fine Art Prints by Petrina Bedford, Edna Dale's daughter and Jack Dale's granddaughter. She is also the granddaughter of Paddy Bedford on her father's side – another iconic Kimberley artist (whose work was recently transposed onto a Qantas plane).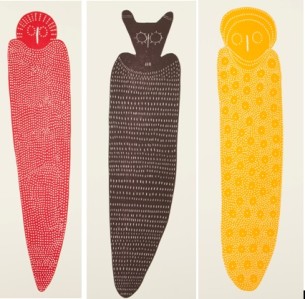 They are very long and narrow and would look stunning as a single entity, as a pair or as a trio – these will very soon be arriving from Mowanjum community in the Kimberley. The paper size is 78cm x 27cm; there is an edition of 50 for each; and each is priced at $295.
The Wandjina is shown in red – "The Wandjina is our identity. The Wandjinas gave the law, culture and language to the people to abide by. These customs are carried on to this day. The Wandjina represents the laws of everything that surrounds us, trees rivers rocks bushfruits and animals, all creation. The Wandjina give the law on how we have to treat and use these creations."
The Arawadi is shown in black – "They are warriors and they are painted into the caves at Bells Gorge." Her grandfather, Jack Dale, also painted them. She has depicted the Arawadi with a Wandjina body as they were swallowed by a Wandjina. The Arawadi were greedy and the Wandjina fought and defeated them in battle to end their attempted land grab.
The Gulawala Wandjina is shown in yellow – "She is from Ngarinyin country near Isadel River (that's fresh water country) however she wears pearl shell necklaces around her neck." Edna Dale says that they must have traded with the salt water people on the neighbouring west coast. "This is the Warnun system, the law of gifts, trading and sharing resources that exists between clans."