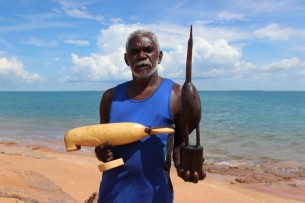 OCTOBER 25 – SATURDAY AFTERNOON WITH MARDBALK ARTISTS FROM GOULBURN ISLAND
"FROM THE HEART OF WARRUWI" – An afternoon salon with visiting Artists
Tali Gallery will be hosting 6 traditional Aboriginal artists and staff from Goulburn Island off the Coast of Arnhem Land towards the end of October.  The artists will be staying in the Rozelle community and will be involved in curating and exhibiting their wonderful carvings, painted barks and woven artefacts.
"From the Heart of Warruwi" is a self determination skills development exercise for this Community Art Centre. It will also provide the opportunity for visitors to the Gallery to see the artists at work, creating bark paintings, carving and weaving with pandanus and to learn about the Creation stories that are inspired by the marine life within the surrounding Arafura Sea.
All are welcome to attend a Saturday Salon at Tali Gallery on the afternoon of 25th October between 2 and 5pm when the artists will be demonstrating their work and interacting with visitors.  Light refreshments will be served during the course of the afternoon.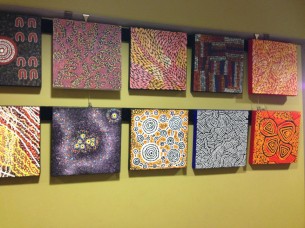 NOVEMBER 5th (to 27th) – SURRY HILLS LIBRARY, CITY OF SYDNEY EVENT – LITTLE GEMS (of wisdom)
An exhibition of small affordable artworks relating to survival, from various Aboriginal artists and communities across Australia. Â The artwork will be for sale.
Curator's Talk : November 13 – Di Stevens from Tali Gallery at Surry Hills Library
PAST EVENTS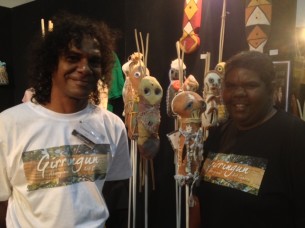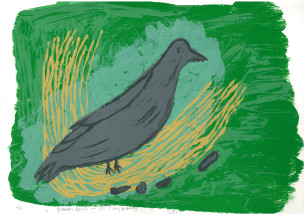 SEPTEMBER 13 – SATURDAY AFTERNOON SALON WITH GIRRINGUN ARTISTS FROM Â RAINFOREST COUNTRY AROUND CARDWELL, QUEENSLAND
A launch of the Art Centre's new fine art print collection: Â Please join us from 2 to 5pm on Saturday September 13 to welcome Artists and Staff to Sydney and learn about their unique and interesting rainforest heritage.
Girringun Community has created a third edition of prints.
The first was Gijalordi where each artist in the community recounted a part of the Dreamtime story about how the Kingfisher created the river at Cardwell.
The second related to the 'Bagu'.
This new collection is about Survival in a Changing Land.
Together with the prints, the exhibition will comprise clay works, paintings and a new range of functional textiles.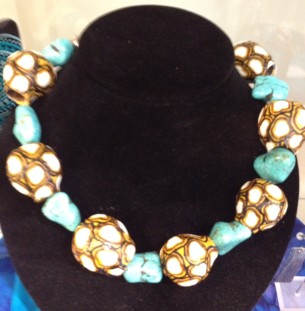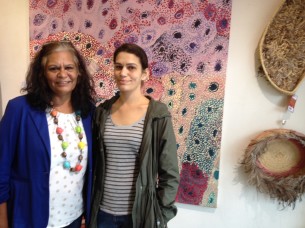 SEPTEMBER 20, 2 to 4pm – Â GUMNUT SALON WITH JEWELLERY ARTIST, CLEONIE QUAYLE :
Cleonie says:
"A lot of the designs are my father's Country, Barkindji (Paakindji) which means river people, Barka means river, as the great Murray River flows through Wilcannia. Some people say Barkindji and some people say Paakindji, it's the same region, one just means north of the river the other means south of the river. The squares represents our lands, because we are known as the Corner Country, because our Country is on the boarder of NSW, QLD and SA.
Dad was born in White Cliffs, the dirt underground is white.
Another necklace design is my interpretation of a woven basket for fishing (the 3 lines is also the women's symbol) and of course the one gumnut representing my father's Country again.
I like working with gemstones, because it's symbolic of our Country, because out west is famous for its gemstones."