Tali Gallery works with Aboriginal Owned Community Art Centres to keep Culture Strong and to Improve the well being of Aboriginal people.  These Art Centres send collectors and selected galleries such as Tali Gallery their best work to showcase in cities around Australia.  Tali Gallery is entrusted with the artwork on consignment to represent their artists  in Sydney, at set prices determined by the art centre management. Tali Gallery displays work from each of these communities on an ongoing basis, with a view to strengthening the careers of the artists:
Central Western and Eastern Desert – N.T. & W.A.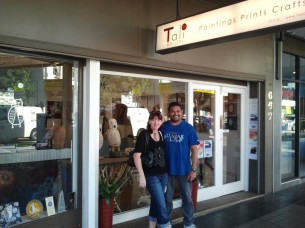 Bindi Arts – Alice Springs
Matumili – Pilbara
Ngurratjuta  – Alice Springs
Papunya Tjupi – Papunya
Tangentyerre – Alice Springs
Tjarlirli – Tjukula, W.A.
Warlurkurlangu – Yuendumu
Yarrenyty Arltere – Larapinta
APY Lands – S.A.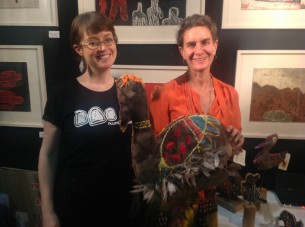 Iwantja – Indulkana
Kaljiti – Fregon
Ninuku – Kalka
Queensland
Girringun (Cardwell)
HopeVale Arts and Cultural Centre
Pormpuraaw Arts  (CapeYork)
Kimberley – W.A.
Mowanjum – Derby
Waringarri – Kununurra
Warmun – Turkey Creek
Yarliyil – Halls Creek
Arnhemland & the Top End
Bula Bula – Ramingining
Elcho Island
Mardbalk Arts and Culture
Maningrida
Milingimbi
Tiwi Islands
Jilamara Arts
Munupi – Melville Island
Tiwi Design
Torres Strait Islands
Erub Arts
Tali Gallery also Works with Selected Independent  Urban and Regional Artists and Arts Organisations such as Theo Tremblay (Canopy) and Kick Arts in Cairns
Cedric Varcoe (Narangga Ngarrindjeri, South Australia)
Digby Moran (Bundjalung, NSW, Telstra NATSIAA Award People's Choice Winner)
Eliza Jane Campbell  (Ngugi – Stradbroke Island)
Melanie Hava (Mamu – Queensland)
Nudge Blacklock   (Biripi/Ngarabal, Telstra NATSIAA Award Finalist & NSW Parliament Aboriginal Art Prize Finalist)
Pauline Bonney (Wangkatha, WA)
Sarrita and Tarisse King (Gurindji, NT)
Summer Mathews – (Barkindji, NSW)
Wayne Liwingu McGinness – (Ngadjon/Yidinji/Kungarrakan)
Winston Walford (Kamilaroi, NSW)