Robert Campbell Jnr was the much loved brother of Tali Gallery friend, Aunty Margret Campbell who has asked us to sell this painting on behalf of her family. Coincidentally, Artbank are holding an exhibition of his work in Sydney. Robert Jake Campbell Jnr. was born in Kempsey New South Wales in 1944 and passed away in Kempsey in 1993.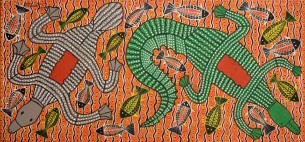 He was one of the first generation of urban Aboriginal artists, exhibited in the late 80's in Sydney (represented by Roslyn Oxley) and in Melbourne and then in London at Rebecca Hossack's Gallery. More recently, his work was included in the Australia exhibition at the Royal Academy, along with Albert Namatjira's.
George Alexander wrote in 'Tradition today: Indigenous art in Australia', Art Gallery of New South Wales, Sydney, 2004: "Fusing sophisticated compositions with a raw, naive vision, Robert Campbell, Jnr began to record the stories that he remembered from his childhood, as well as the brutal history of racism and colonialism, and the apartheid of twentieth-century Australia."
Rebecca Hossack wrote in an Obituary: " 'I paint,' he once said, 'about things that touch me personally, whatever has happened to me personally.' And it is this sense of personal experience that gives his paintings a power unsullied by either sentimentality or sloganeering. There are arcadian scenes of camp life, of food- gathering and unspoilt nature. And there are frank representations of the darker side of 20th-century Aboriginal life, of alcoholism, of police brutality and racism. One marvellous painting, Roped off at the Pictures II, depicts the perfunctory segregation practised in the old Australian cinemas, with Aboriginals separated from the rest of the audience by a rope."
Robert's work is held in worldwide collections: National Gallery of Australia, Canberra; Art Gallery of Western Australia; Artbank;
Department of Foreign Affairs, Canberra; Dobell Foundation;
Flinders University; Print Council of Australia; Regional Galleries Association of Queensland; Private collections in Australia, U.S.A. and Britain
Robert has left a great legacy in his art. This painting is the result of a visit to Ramingining at the invitation of Djon Mundine in 1982 – as told to his cousin, John (Hank) Campbell, who is the actual owner of the artwork. Robert gave him the painting after Hank helped him on his property at Kempsey and Hank recalls the story told to him personally by Robert :
Name Of Painting. – Freshwater & Saltwater Totems Meet.
What it Represents – " it depicts two different types of animals in two different types of cultures – its food and best catching them as they swim against the current " and, "the saltwater and the freshwater places where they live such as Ngaku ( Kempsey NSW ) and Ramingining ( Northern Territory)".