At $50, these new Pandanus earings soon to arrive from Maningrida are not only funky, fun and beautiful. Â The work that has gone into them is also to be greatly admired!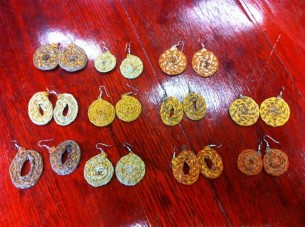 Pandanus is a spikey palm, the branches of which are cut with a machete and the heavy load is carried back to camp in the searing heat of the top end. Â The leaves are peeled and then shredded into strips which is actually very difficult to do for a novice and takes a good deal of practice. Â The shredded fibre is then dyed and dried with various natural plant colours in a boiling tin or billy over a fire. Â It is an arduous process collecting the dyes.
The yellow dye comes from the root of a tree the colour of tumeric and this necessitates a very deep hole being dug to access the tree roots, a small piece is cut and then the hole needs to be filled in to ensure the tree doesn't dye and there'll be more supply for another time. Â 
The red dye comes from the bulb of a grass. Â The mauve colour comes from bush plums which are only available at a certain time of year.
All this is done even before the weaving starts. Â Our gallery classes have shown that weaving is indeed an artform which comes naturally to the master weavers from Arnhemland who go about their work with an easy and speedy rhythm after years of practice, but it is certainly a skill which takes time and patience to develop.