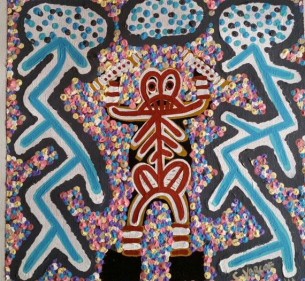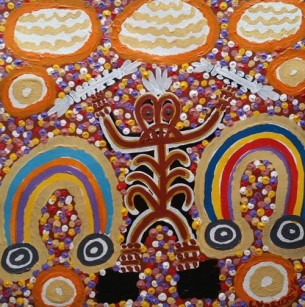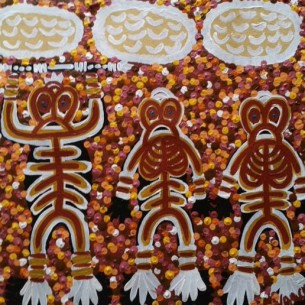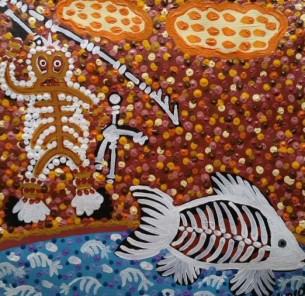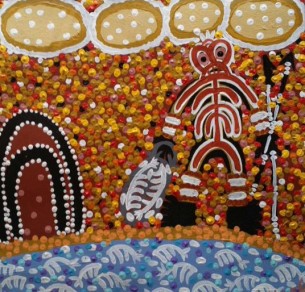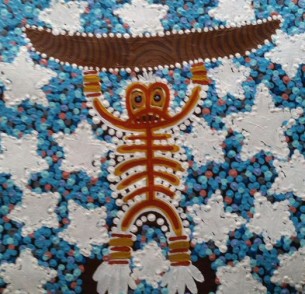 Cedric Varcoe created a series of 28 miniature paintings depicting the Songline of the Ngarrinjeri following the Murray River in South Australia.
"Ngurunderi came down the river Murray making our country with the help of Pondi the big Murray Cod and they made Ngarrinjeri Country."
And it is the making of this country that Cedric has conveyed in his artworks. Â In one painting, Ngurunderi spears Pondi and with the help of Nepeli, cuts the giant Murray Cod into small pieces and as he throws each piece into the river, a new fish species is created and that is how all the different kinds of small fish came to be found in the Murray.
When they were done Ngurunderi put his canoe up in the big sky turning it into the Milky way with his brother Waiyungari, where he still lives until this day together with his other brother, Nepeli and his wives.
In the beginning, Ngurunderi created people and creatures and taught people how to hunt and cook to survive. He also gave them clouds and rain, and rainbows to know where to find water.
SONGLINES:
Songlines are recorded in traditional songs, stories, dance, and paintings.
Aboriginal people regard all land as sacred, and the songs must be sung to keep the land alive.
Songlines are the paths across the land or the sky marking out the journey made by the 'creator-beings' during the Dreaming.
By singing the songs in the appropriate sequence, Indigenous people can navigate vast distances, often travelling through the deserts of Australia's interior.  The central desert contains an extensive system of Songlines, some of which weave over a few kilometres, whilst others traverse hundreds.
Since a Songline can span the lands of several language groups, parts of the song are sung in those different languages.  Language is not a barrier because the melodic contour of the song describes the nature of the land – the Songline – over which the song passes.  The rhythm is what is crucial to understanding the song.  Listening to the song of the land is the same as walking on this songline and observing the land.