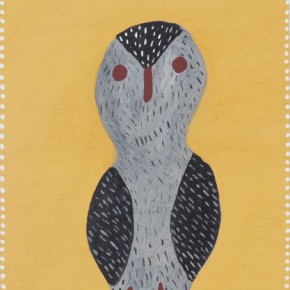 Tali Gallery is delighted to be participating in the Balmain Art and Craft Show on the first weekend in November this year.  We are also very pleased that Betty Carrington's wonderful  Doomboony Owl painting is to be featured in 2012.
Betty Carrington is a well known and influential elder of the Gija people from Ngarrgooroon (Texas Downs Station) in Western Australia. Betty uses a large range of subtle ochre colours – her delicate palette and style describing strong moral stories and historical events in the East Kimberley.
Apart from ochre paintings from the Kimberley, Tali Gallery is also specially sourcing vibrant contemporary paintings from Yuendumu and other desert regions in the NT, as well as artefacts from the Top End. Â All will have certification from the artists' community art centres and will thus, offer impeccible provenance.