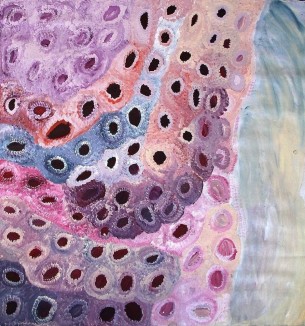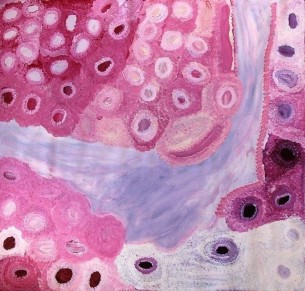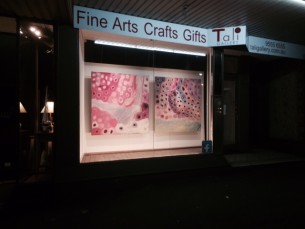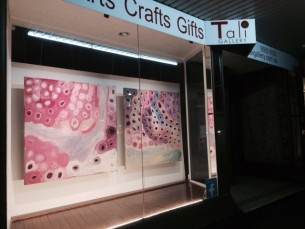 The artwork hung in the window of our Victoria Road space during early July was by Bugai Whyoulter, a highly traditional Matu artist from WA. Â These two pieces and another in the Gallery have been sold but we are able to source further works by this artist.
Bugai was recently featured in Art Collector magazine.
Bugai is a Kartujarra speaking woman, of the Martu, who was born in 1940 on what is now Balfour Downs Station in WA. Â She lived nomadically with her family and her late husband, walking, hunting and travelling the Canning Stock Route through areas of the Western Desert, Â until eventually settling for a few years at Jigalong Community and then more recently at Kunawarritji. She was taught to paint by Nora Nungabar and Nora Wompi and these three often paint together.
Bugai was a finalist in the Telstra and various other Art Awards.   She has participated in several Solo and very many group exhibitions spanning 2008 to 2013, including 'We Don't Need a Map' and the touring exhibition, 'Yiwarra Kuju', which was shown at the Australian and the National Museums.   Her work is included in the National Museum of Australia, GOMA in Queensland and the National Gallery of Victoria.  Bugai is an important artist depicting a traditional landscape with deep knowledge and cultural richness as well as incredible beauty.  We are very fortunate to be displaying these works for sale at Tali Gallery.
You can see her artwork on our website via this link: Â http://www.taligallery.com/artists/Bug790/artist-art-list1.asp