Two months into 2017, we've had a busy time here at Tali G as you may have guessed from our absence from blogging since Christmas!
There have been some very special and interesting sales and projects including a collection of very beautiful Dorothy Napangardi Fine Art Prints (the Blue Mountains Cultural Centre Fine Art Print exhibition is now to go on tour – look out for it);
there's been a sale of Tali G fibre from Elcho Island Arts to the National Museum in Canberra –
and yesterday we hosted a film crew from SBS who were covering the Namatjira Trust event being held in Canberra this weekend.
We have long loaned, hired and sold props for filming by both NITV and the ABC – look out for our Aboriginal Art when Cleverman comes back to our screens.

The launch of the Namatjira Trust is a significant event for the family of this iconic artist who are all part of a multi-generational art movement. The Trust is seeking to have the copyright on Albert's work returned to the family as it was unjustly sold by a department of the NT government in a paternalistic action for a very small sum, to a private printing firm in the early 1960s. This means that while the family should receive income from Albert's legacy, they are living in relative poverty.
We hung three of our private collection pieces from Albert Nama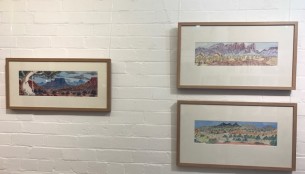 tjira's descendants that we had purchased previously – with personal and precious connections – as a backdrop to the story.
One was by Albert Namatjira Jnr (the single work on the left of the photograph) which we bought to help the community pay for the artists' body to be returned to his homeland for burial from Adelaide several years ago.
The other two are by Gloria Pannka and Lenie Namatjira who visited us in 2014 – flown down by the Art Gallery of NSW, they opened an exhibition of work from their community and then held a workshop at Tali G on the Saturday and then at the Art Gallery on the Sunday. Participants in the workshop were able to paint side by side with Lenie and Gloria who completed these two works during their stay in Sydney. We decided to buy them to support the community and to enjoy the memory of their wonderful visit.
NITV filmed the Tali G event and can be found on our blog here: http://www.taligallery.com.au/?s=namatjira