We enjoyed the most wonderful, heartwarming experience of hosting a visit from Lenie Namatjira and Gloria Pannka, the granddaughters of Albert Namatjira who watched their forebears painting and are accomplished artists today, passing on culture in turn to the next generation. Â Here are some photographs from the day which was truly a special event. Â The artists spent the following day at the Art Gallery of New South Wales so it was a great honour to have them here at Tali Gallery where people could mingle freely and informally with a special sense of intimacy.
We were pleased that Leichhardt Councillor, Vera Ann Hannaford opened the exhibition for us and convened the welcome from our community with children from nearby Nicholson Street Public School presenting a card to the artists, a kind customer presenting them with flowers, and a special letter of welcome being read out from our much loved NSW Governor, Â Professor Marie Bashir who was interstate over the weekend on official duties. Â Academic, curator and Namatjira expert, Alison French introduced the artists and their art, and Sophia Marinos, Producer of the Namatjira play also joined us.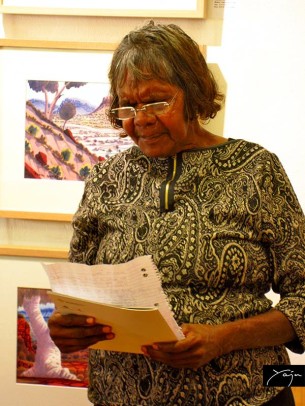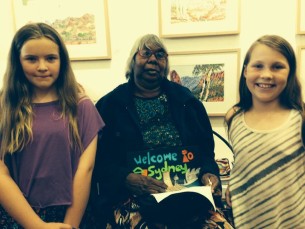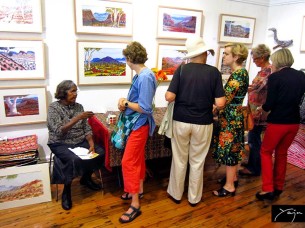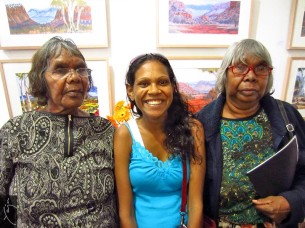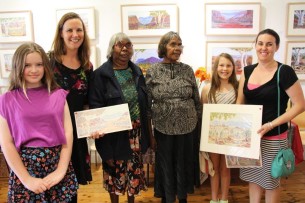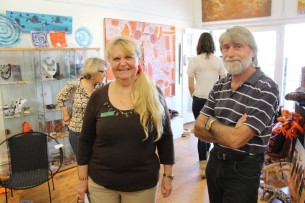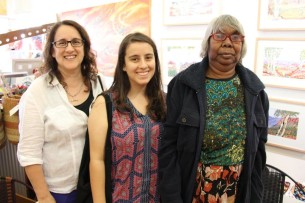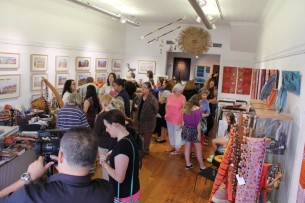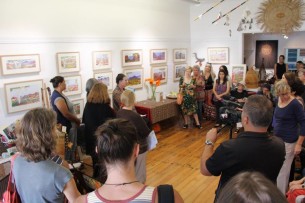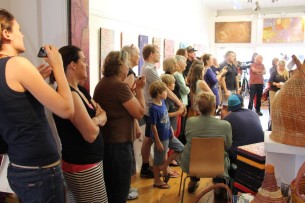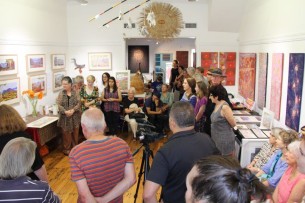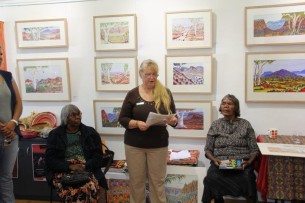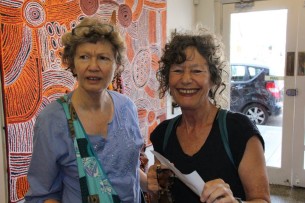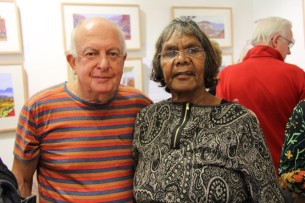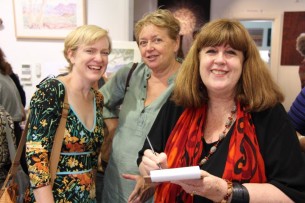 The workshop was much enjoyed by those who participated and also by those who observed! Â  The day was filmed by NITV who will soon release a short film.
Special guests included local filmakers, Curtis Levy and Christine Olsen (Producer of the film Rabbit Proof Fence) and Evelyn Sampi who played her real life grandmother, 'Molly' in the film. Â Verity Firth also joined us for the opening.
The exhibition will remain until the end of April for all to enjoy! Â  Di presented a Curator's talk and Exhibition at Customs House Library during NAIDOC Week last year about the Hermannsburg style watercolour movement and is happy to show the artworks and explain the different artists' styles.
We would like to especially thank The Art Scene at Ryde for their support with materials for the workshop. Â Several of our artists are very happy with this art store's pricing and services. Â It's a good thing to see a business prepared to support Indigenous cultural events and our Gallery which is dedicated to this type of activity.
Photographs courtesy of Yaja Hadrys, Te Anga Nathan from NITV and Yhanni Anthis.
#Aboriginal Art Gallery #Aboriginal Watercolour Paintings #Lenie Namatjira #Gloria Pannka