Tali Gallery is delighted to announce that we will be holding a reception and a watercolour workshop with Albert Namatjira's Granddaughters, Lenie Namatjira, and Gloria Pannka, daughter of one of the original 'Hermannsburg' watercolourists, Claude Pannka. Â  Both artists have paintings included in the collection of the Art Gallery of NSW.
The artists will be visiting Tali Gallery on Saturday 29th March – there will be a workshop at 2pm. Â People wishing to paint alongside these two artists will be asked to contribute $80 towards their expenses and the cost of materials. Â Bookings are essential as places are limited to 12 participants.
An official welcome will be held at 1pm with more details to follow. Â  There will be a range of other activities and visitors will be encouraged to observe or participate as they feel comfortable. Â All welcome as guests on the day.
Lenie and Gloria will also be appearing at the Art Gallery of NSW on Sunday 30th March as part of the Gallery's 'The Hills beyond Hermannsburg' exhibition. There will be paintings available for sale at Tali Gallery by a range of artists including Lenie and Gloria, as well as Kevin Namatjira, Peter Taylor, Douglas Abbott, Ivy Pareroultja, Kevin Wiri and Elton Wiri which you can view and purchase on this link: Â http://www.taligallery.com/mediums/Wat137/medium-art-list1.asp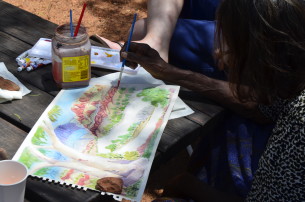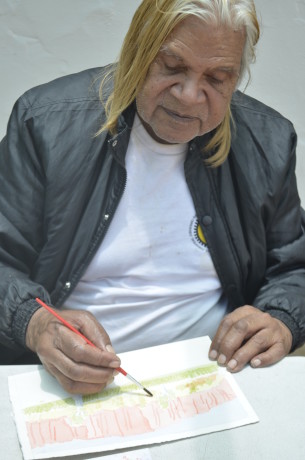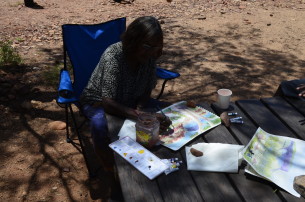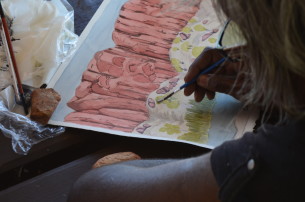 Lenie and her cousin, Kevin Namatjira recently appeared on stage in London, when the play, Namatjira, was staged for two performances. Â It proved so popular it will return to London later this year for an extended season. Â An exhibition of artwork by the group these artists paint with, Ngurratjuta Many Hands Art Centre, was held at Southbank in London to great acclaim, and workshops and events were also organised. Â  There is a painting by Albert Namatjira in the Australia exhibition at the Royal Academy in London and these events overseas have jettisoned the watercolour landscapes art movement which evolved out of Hermannsburg into a new generation's consciousness. Â  There is a very exciting resurgence of interest in these beautiful and varied paintings across the group of artists which is now painting as a movement for their art centre in the Desert Park in Alice Springs.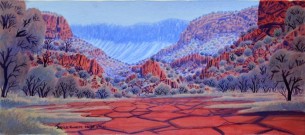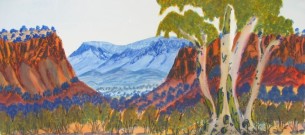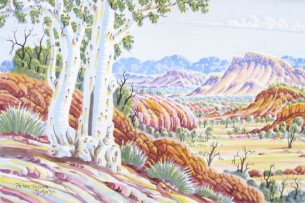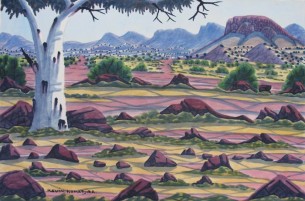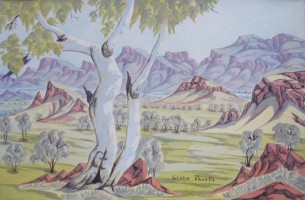 Tali Gallery is delighted to be exhibiting their beautiful work – there are several on our website to view now and a special exhibition will be staged during their visit.
http://www.taligallery.com/mediums/Wat137/medium-art-list1.asp
You can glean a sense of what the day will be like from coverage of  the visit of Mervyn Rubuntja to Tali Gallery last year on the Events page of this website:
http://www.taligallery.com.au/what-a-brilliant-day-outshining-the-rain/ Â  Â We're planning to make this next event from these talented artists as wonderful as this one was!
If you would like to book a place for the watercolour painting workshop please use the contact form on this website and we will organise your booking and payment.
Gloria's father, Claude Pannka was one of the original 'Hermannsburg School' watercolour artists. Alongside Albert Namatjira, Claude developed an interest in painting when artist Rex Battarbee visited Hermannsburg in 1934. By 1950 Claude was painting full time and became a highly sought after artist. Gloria's father taught her to paint with watercolours and she continues to paint in the tradition of the 'Hermannsburg school' style.
Gloria uses fine detail and subtle tones to capture the West MacDonnell Ranges where she currently lives. Gloria's work has featured in a number of exhibitions throughout her career, including the honor of receiving a 'highly commended' title for her painting in the NATSIAA 2008 which was then acquired by the NT Museum and Art Gallery. Gloria has also had the privilege of having her painting 'West MacDonnell Ranges' acquired by the Parliament House Art Collection Canberra.
Lenie is Albert Namatjira's granddaughter, daughter to Oscar Namatjira. After an absence from Hermannsburg to attend the mission school and complete a three years service in the Army Labor gang, Oscar returned to his family at the Hermannsburg mission and took up painting like his father. For a period of twelve months Oscar became Albert's truck driver, driving Albert and his supplies to different painting locations. Oscar learnt how to paint from his father and became a skilled practitioner in his own right. Oscar raised a large family, with Lenie being one of ten children. Lenie and her siblings (Euphrene, Reginald, Saleen, Wallace, Albert Jnr, Marcia, Donald, Rosabelle, Gwenda and Bessie) were all raised at Hermannsburg.
Lenie paints in the tradition of her father and grandfather. Her watercolour paintings focus on the landscape west of Hermannsburg. Many of her paintings are drawn from childhood memories of her country. Lenie is also known by her married name 'Lankin' and in the past has spelt her name Lennie, with a double 'n'.