Tali Gallery is delighted to represent Indigenous Artist, Melanie Hava in Sydney. Â We love her stunning depictions of Brolga's and Jabiru which show such elegance and grace, on backgrounds of beautifully detailed patterning from her traditional heritage.
We are pleased that NITV chose Melanie's red Brolga's Dancing painting below as the artwork image for their E Card for Christmas 2014. Â It is suitably joyful and festive. While it's been a difficult year for many Indigenous organisations and communities, NITV has shone through for programs such as AWAKEN and special forums with mainstream ratings levels – cause for celebration!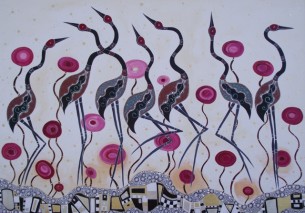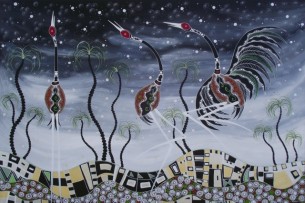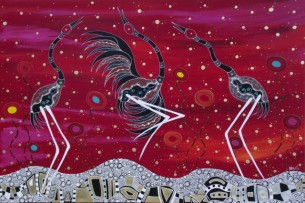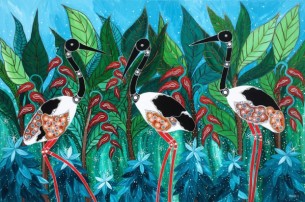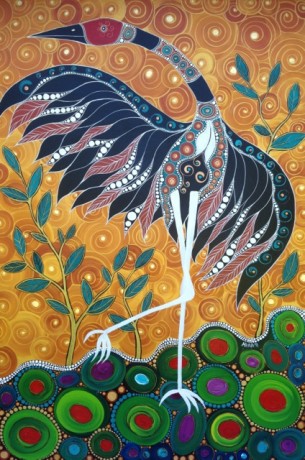 About the Artist:
My father comes from the lush country of Austria and my mother comes from the South Johnston River Mamu tribe in North Queensland.
I paint in an individual free style where I aim to combine traditional styles of my Aboriginal heritage with my Austrian heritage. I am inspired by both the Australian and Austrian landscapes and particularly the medieval and architectural structures and art in Austria.
I've had a talent and passion for art since I discovered paint in kindergarten in Mount Isa. Over the years I have played around with landscape painting in oils, watercolours, folk-art in acrylics until I discovered a calling to my own style. In the late 1990's, while living in Yowah Opal Fields west of Cunnamulla, I began selling my work on didgeridoos and canvas at local markets and to overseas buyers who frequented the town. In June 2005, after several sales through a local art gallery, I held my first solo exhibition "Migaloo Murri Art," at Outback at Isa in Mount Isa. It was a success with 36 out of the 44 paintings selling in the month long exhibition. I received a further 6 commissions from the Council for paintings for corporate gifts and for the CEO and mayor's offices. Afterwards I travelled to Austria to visit my father's family and to be influenced by the art there. I also put several pieces of work in a small gallery in Austria and sold out.
Résumé:
Solo Exhibitions
2011 – Feature artist at Tosari Galleries, current July/August
2010 – "From Dust To Thunder," Tosari Galleries, Toowoomba (sold out)
2009 – "Indigenously Austr(al)ian," Toowoomba Regional Art Gallery, Toowoomba (22/26 sold)
2005 – "Migaloo Murri," Outback at Isa, Mount Isa (36/44 sold)
Group Exhibitions
2012 – Earths Elements, Manyung Gallery, Mt Eliza
2008 – Brisbane Women's Club, Brisbane
2007 – Gulf of Carpentaria and Savannah Indigenous Dreaming's and Lifestyle exhibition
Bibliography
Ally Martel, "Indigenous Mix," Highlife Magazine, Spring 2010
Sandy Pottinger, "Artist Shares Imaginative Landscapes," The Chronicle, 05/06/2010
Rosie O'Sullivan, "Melanie Hava," Style Magazine, June 2010
Merryl Miller, "From Dust to Thunder," Style Magazine, June 2010
Sandy Pottinger, "Solo Exhibitions Shape Focal Points for Brave Artists," The Chronicle, 11/07/2009
Joann Marsh, "Artist Fuses Cultures to Create Work," The Chronicle, 04/07/2009
Tahnee Watson, "Pair's Art Becomes Serious Business," The North West Star, 04/03/2008
Alison Mooney, "Motherhood Influential," The North West Star, 08/01/2008
Aleisha Orr, "Exhibition Aids Artists," The North West Star, 15/08/2007
Aleisha Orr, "Exhibition Aids Artists," The North West Star, 15/08/2007
Mia Ginnivan, "Talented Young Woman," The North West Star, 10/06/2005