Baskets galore, Â some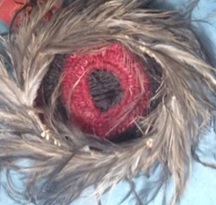 adorned with emu feathers – a delightful way to enjoy art on your walls.
A range of colours in woven baskets by women across the central desert regions of Australia – including the Northern Territory, Western Australia and South Australia.
They also make wonderful gifts and some of our clients display them on a coffee table filled with emu eggs – a little different and special table decoration.